Step-wise Guide to Entertain Your Queries Regarding Use Of Sauna Suit For Weight Loss!
Sauna suits are primarily designed for a quick weight loss. Sauna suits trap the body's heat inside and elevate the internal temperature.
With the increasing temperature, your body will react immediately to cool you down. This reaction comes in the form of tiny sweat drops appearing on your body.
When you perspire, the temperature of the body suddenly drops. Sweating will help you lose extra pounds in the workout session.
Moreover, increase in the body temperature during a workout will boost up your metabolism and pulse rate. Sauna suits ensure a smooth blood circulation that keeps the body active.
Wearing a sauna suit will also motivate you to 'exercise more.' How? The elevated body temperature will make you feel like you are doing a pretty good workout.
Sauna suits are often made from rubber or neoprene and are available in the market in the form of shirts, jackets, and pants. There are elasticated closures at the waist, neck, wrists, and ankles to retain the body temperature and moisture.
You can also buy a hooded sweat sauna suit with additional heat retention properties for total body workouts.
Proper Use Of Sauna Suit For Weight Loss
Here is your complete guide if you are using sauna suit for weight loss.
Step#1
While buying a sauna suit, show extra vigilance when it comes to size.
Sauna suits are often unisex and comparable to the size of general tracksuits. If you wear a large tracksuit, a large size sauna suit should fit on your body.
They are available in varying sizes ranging from Small to Extra Large.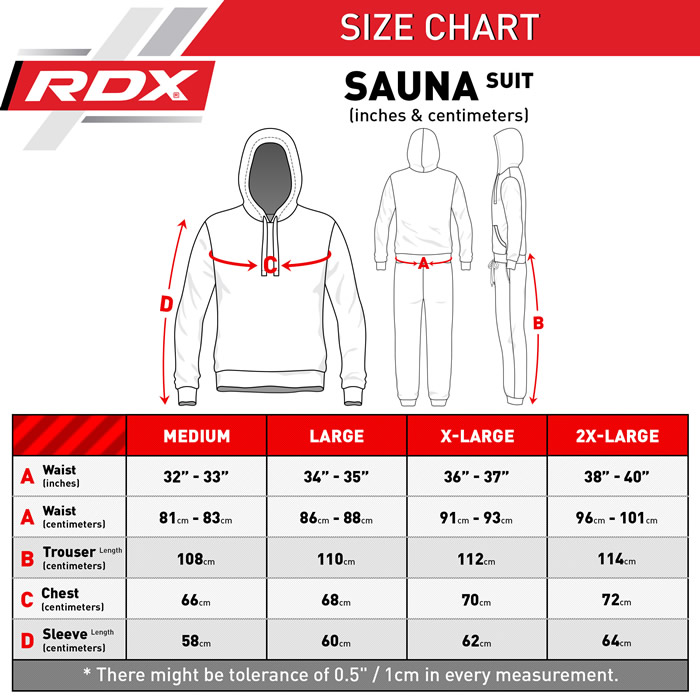 Before buying one, don't forget to check the size guide of your sauna suit for weight loss.
Step#2
The next question is: What kind of clothes should you wear under a sauna suit for weight loss?
You must prefer close-fitting and moisture-wick undergarments that don't make you uncomfortable during a workout.
Step#3
While wearing a sauna suit, don't tuck the shirt into your pants. Place the elasticated bands carefully on your collar, cuffs, ankle, and waist.
Step#4
In the high-intensity extreme workouts, wearing sauna suits for weight loss can cause dehydration.
A stated earlier, sauna suits increase the sweating rate of your body. So, you need to keep yourself hydrated before and after wearing a sauna suit.
"To stop the feeling of dehydration, I just started to drink more water throughout the day," commented a sauna suit user.
Drink 6 ounces of water before as well as after the workout. Also, drink plenty of water after every few minutes of physical activity. Drink 6 ounces after every 20 minutes of your exercise in a sauna suit.
Step#5
If you are a beginner who just bought his sauna suit for weight loss, don't wear it during your long exercises without a break.
Keep its usage at minimum first and then gradually work your way up. Wear it in 5-10-minute increments and then work your way up to wearing it for your complete workout duration.
Do not wear it for more than 60 minutes while exercising.
Move from low-impact exercise to high-impact ones. How?
Walking before jogging
Jogging before running
Lying leg raises before hanging leg raises
Step#6
Always clean your sauna suit after using it during your workout.
Follow the manufacturer's instructions before cleaning the suit. Often the suits are wipe-cleanable where you clean the suit with warm and soapy water.
Most of the suits available in the market are only hand-washable. However, some are machine washable as well like this one. It is always recommended to never iron the suit or put it in the dryer. Let it dry in the open air!
Now you know how to wear a sauna suit safely for maximum benefits.
Check out how can you use it in a full body muscle building workout.