Skipping rope is your ultimate choice when it comes to toning of muscles and physical fitness. You can even perform some high-intensity interval training (HIIT) workouts with skipping rope. Quick bursts of high-intensity exercises can boost your athletic performance and abilities.
5 HIIT Workouts That You Can Do With Jump Rope
Skipping rope also entertains your every weight loss woe. Skipping rope sparks up the metabolism rate and enhances cardiovascular conditioning. If you skip rope for 10 minutes, you can burn 135 calories. A dream weight loss program for every fitness junkie!
Burn 135 Calories In 10 Minutes Using Skipping Rope
Are you thinking to buy one? Wait, how are you going to choose a skipping rope? We got you covered! Here are the 5 important guidelines to consider before adding a jump rope to your shop cart.
Do you have one already? If no, you can buy it here!
TIP #1 Length
To do the right measurement of a jump rope, perform the following steps.
Stand in the center of rope (loop).
Bring its handles evenly up to your chest. It must be held tight.
In a perfect length, tops of the handles will hit the middle of your sternum.
Before any jump rope training exercise, check out the length of your jump rope.
Tip #2 Weight
The weight of the skipping rope depends upon the goals you intend to achieve.
A thin rope is preferable for double unders (swinging rope twice per turn) and fast speed.
A medium rope is recommended for the beginners and freestyle skipping tricks.
A thicker rope is the perfect go-to choice for boxers and mixed martial arts fighters.
A weighted rope is good for arm workouts, stamina building exercises, and flexibility training. A light rope has poor snap.
Tip #3 Material
After length and weight, be very careful about the material of your skipping rope.
Plastic ropes are quite light and easy to swing. For speed training exercises like double bounce, use plastic ropes.
However, choose a durable material for strength and endurance training exercises. For durability, strength, and long life, choose the leather skipping rope
Tip #4 Handles
The grip of a skipping rope is very important. Else, your rope might fly in the air and end up on the face of your partner.
Handles must be able to rotate around the rope with ease and comfort. For kids, you must prefer the foam handles. For adults, plastic handles are just fine.
Various skipping ropes have changeable weights in the handles for weight adjustment (like the one below). What weight adjustability means that you can create a customised workout for boxing, CrossFit, or speed training.
RDX Leather Skipping Speed Jump Rope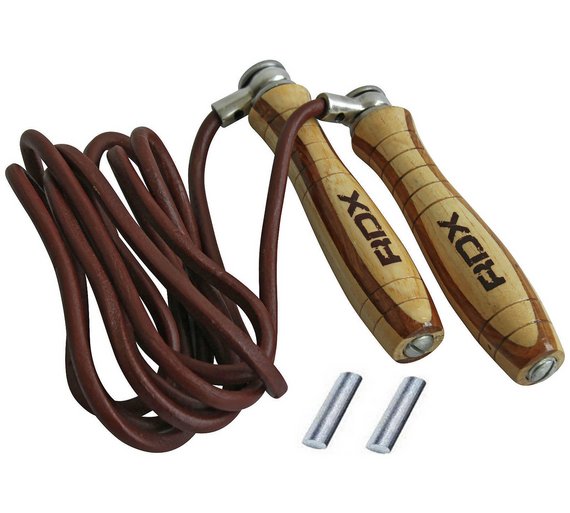 Tip #5 Adjustability
This is extremely overlooked and yet an important factor for the beginners. When you are starting out, you won't be able to calculate the required length precisely. So you must buy an adjustable skipping rope to save yourself the future issues.
Assess the right length of rope before your purchase. While you are moving from a beginner level to expert level, you can then adjust the length accordingly.
If you are planning to buy rope for the next few years, adjustable skipping rope is just made for you.
For promising results, always be very careful about the quality of your skipping rope. The type of skipping rope depends on your training, so choose wisely.